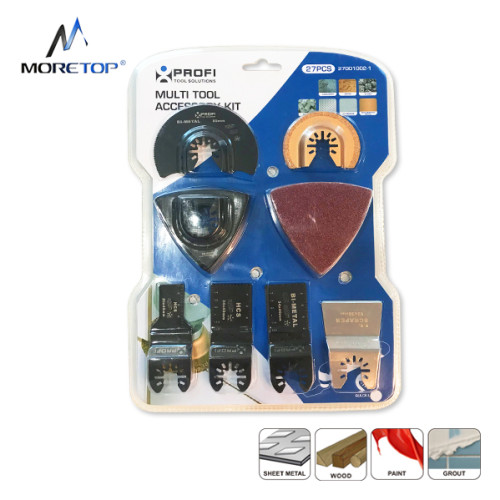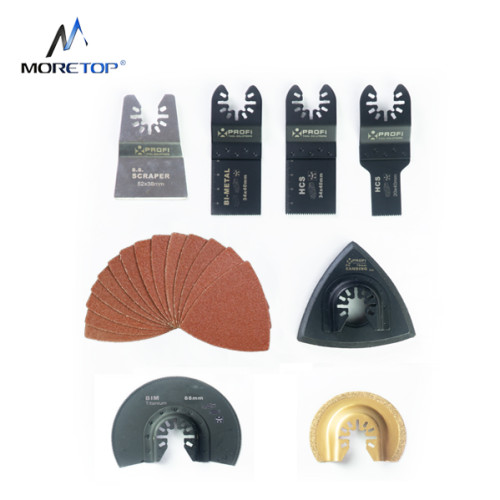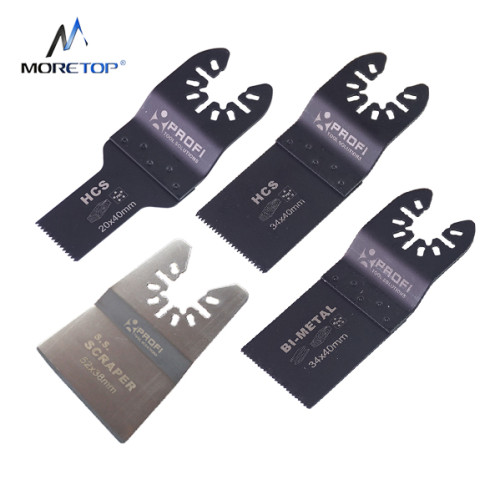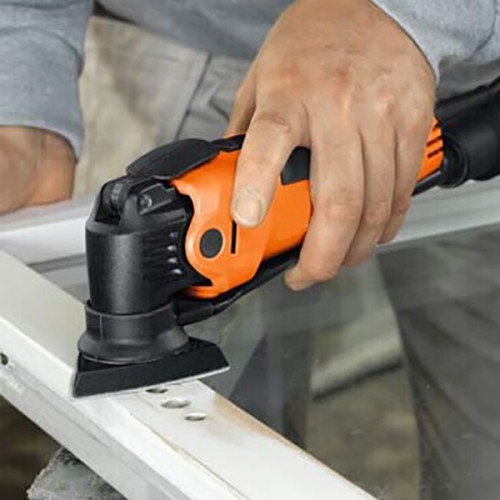 MORETOP Bi-Metal And CRV Blades Oscillating Multi Tool Blade Kit For Sawing, Cutting And Sanding 27-Pack 27001002-1
Item specifics
Brand

OEM BRAND
Size

27pcs
Contains

1pc 20mm HCS; 1pc 34mm HCS; 1pc 34mm BIM;
Contains

1pc 52mm Scraper; 1pc 65mm Carbide; 1pc 88mm BIM
Contains

1pc 80mm Sanding Pad; 20pcs 80mm sanding Disc
Shank type

Open type,Universal Quick Fit
Recommended Market

Europe and others
Application

Wood, Metal, Grout, Paint, Glue, Concrete
MOQ

500
Description
MORETOP Oscillating Multi Tool Blade Kit we offer

We offer an excellent selection of the most popular oscillating tool cutting blades. This set of 27 blades is a perfect kit for professional
craftsmen and DIY enthusiasts. It includes blades for cutting, scraping, shoveling, grinding or removing residues. Our blades go with
Universal Quick-Shank fitment to suit almost all major brands of oscillating machines.
We could offer you customized service for your own set with your logo and designing. Moretop team are devoted to help your business
success in your market.
Features:
* Universal Quick Fit Shank is compatible with almost all professional power tool machines
* Ideal for cutting nail embedded timber, copper pipe, hard wood, sheet metal , plastics and aluminum.
* Reinforced tapered High Carbon Steel reduces vibration and provides less jamming
* It is easy to routing grout, to removing mortar or tile adhesive and to cutting a new cable duct in the wall with routing and rasping blades.
* Suitable for removing stubborn carpet adhesive residues, soft expansion joints and window putty.
| | | | | | |
| --- | --- | --- | --- | --- | --- |
| Description | Size | Cutting Length | Material | Qty. | Function |
| Blade | 20mm(13/16") | 40mm | HCS | 1 | For wood, plastic |
| Blade | 34mm(1-3/8") | 40mm | BIM | 1 | For wood, metal |
| Blade | 34mm(1-3/8") | 40mm | HCS | 1 | For wood, plastic |
| Scraper | 52mm(2") | 38mm | Stainless steel | 1 | For grout, glue, paint |
| Delta Sanding Pad | 80x80x80mm | | EVA+VELCRO | 1 | Polishing pad |
| Delta Sanding Disc | 80x80x80mm | | | 20 | For wood, paint |
| Segment Saw Blade | 88mm(3-1/2") | | BIM | 1 | For wood, metal |
| Blade | 65mm(2-5/8") | | CARBIDE | 1 | For concrete, tile, plaster |