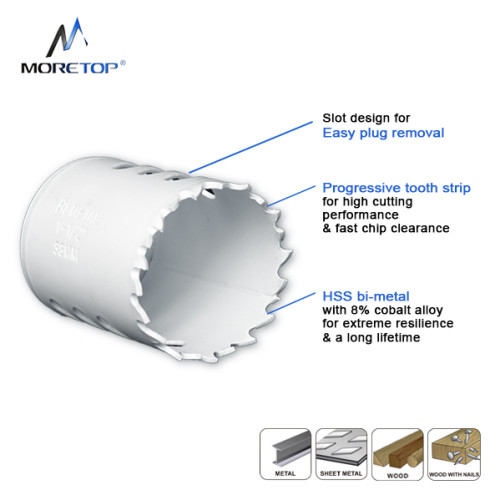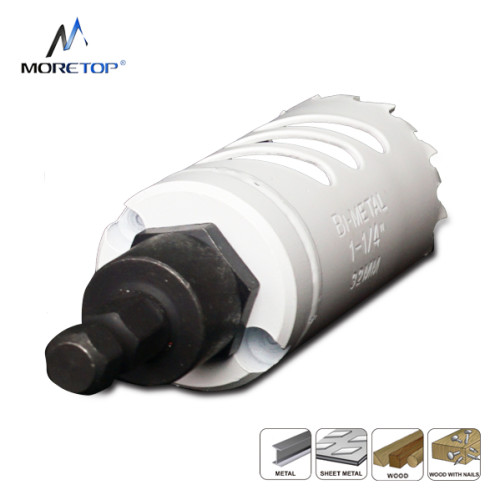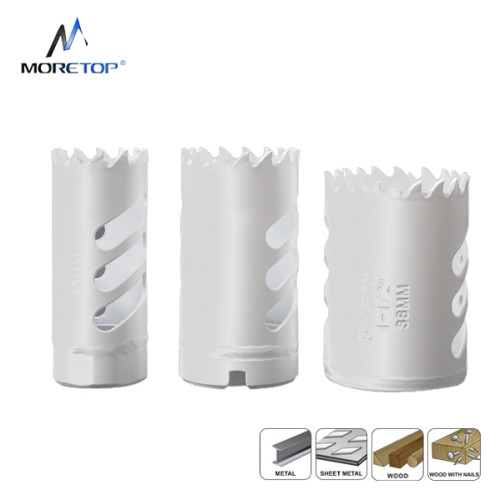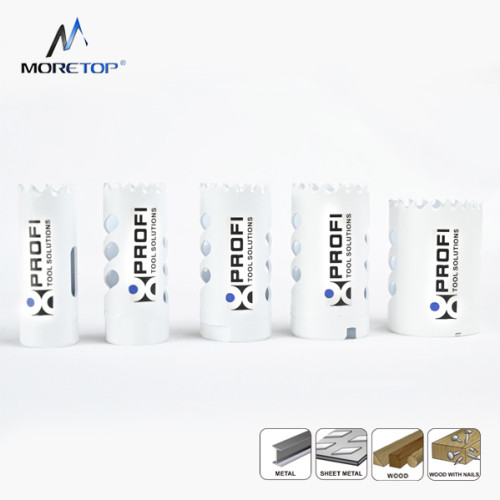 MORETOP Bi-Metal Hole Saw Kit For Hard Metal, Wood
Item specifics
Brand

OEM BRAND
size

16~152mm
Inch

5/8"-6"
Cutting Depth.

48mm
Recommended Market

America, Canada
Application

For Soft Metal Sheet, Wood, Drywall,
Application

Aluminum, Plastic Plate, Plasterboard
Description
MORETOP Bi-Metal Hole Saws

【Fast & Clean Cutting】

The 4/6 variable tooth configuration allow Moretop bimetal hole saw kit to provide clean and fast cutting in the most demanding applications.
Our metal cutting hole cutter has a 3X sideling slot design, which can effectively remove chips and increase operating speed.
【Long-lasting & Durability】
The wood hole saw kit is made of high quality bi-metal, which is wear resistance and rust resistance. 2mm thickness is more durable and can offer more than 50% longer life. Two pilot drills are made of premium high-speed steel for precise positioning and rapid drilling for longer service life.
【Optimized Tooth Design】
Professional high speed steel M42 (not M2) with 8% cobalt cutting teeth is engineered to provide faster cutting speed and higher efficiency on drilling soft sheet metal, Aluminum, wood, plastic, plasterboard, etc.
【Convenient Storage】
All wrapped up in a convenient carrying case, which allows you to keep all of hole cutter organized. Every hole saws are marked with both imperial and metric measurements.
1. Progressive tooth strip forhigh cutting performance & fast chip cleaeance.
2. HSS bi-metal with 8% cobalt froextreme resilience & a long lifetime.
3. Slot desigh for easy plug removal.
Upgraded design with 8% cobalt ultra sharp serrations forfaster and cleaner cutting, which is ideal for soft sheet metal, wood, plywood, plastic plate, plasterboard and thin PVC board.
The hole saw kit is made of high quality bi-metal, which is wear resistance an drust resistance.
Item No.

Inch(")

Dia. (mm)

Depth.(mm)

Material

Function


14002001

5/8

16

48

BIM M42+D6A

For Soft Metal Sheet, Wood, Drywall, Aluminum, Plastic Plate, Plasterboard

14002002

3/4

19

48

BIM M42+D6A

For Soft Metal Sheet, Wood, Drywall, Aluminum, Plastic Plate, Plasterboard

14002003

13/16

21

48

BIM M42+D6A

For Soft Metal Sheet, Wood, Drywall, Aluminum, Plastic Plate, Plasterboard

14002004

7/8

22

48

BIM M42+D6A

For Soft Metal Sheet, Wood, Drywall, Aluminum, Plastic Plate, Plasterboard

14002005

1

25

48

BIM M42+D6A

For Soft Metal Sheet, Wood, Drywall, Aluminum, Plastic Plate, Plasterboard

14002006

1-1/8

29

48

BIM M42+D6A

For Soft Metal Sheet, Wood, Drywall, Aluminum, Plastic Plate, Plasterboard

14002007

1-1/4

32

48

BIM M42+D6A

For Soft Metal Sheet, Wood, Drywall, Aluminum, Plastic Plate, Plasterboard

14002008

1-3/8

35

48

BIM M42+D6A


For Soft Metal Sheet, Wood, Drywall, Aluminum, Plastic Plate, Plasterboard

14002009

1-1/2

38

48

BIM M42+D6A

For Soft Metal Sheet, Wood, Drywall, Aluminum, Plastic Plate, Plasterboard

14002010

1-9/16

40

48

For Soft Metal Sheet, Wood, Drywall, Aluminum, Plastic Plate, Plasterboard

14002011

1-3/4

44

48

For Soft Metal Sheet, Wood, Drywall, Aluminum, Plastic Plate, Plasterboard

14002012

2

51

48

For Soft Metal Sheet, Wood, Drywall, Aluminum, Plastic Plate, Plasterboard

14002013

2-1/8

54

48

BIM M42+D6A

For Soft Metal Sheet, Wood, Drywall, Aluminum, Plastic Plate, Plasterboard

14002014

2-1/4

57

48

For Soft Metal Sheet, Wood, Drywall, Aluminum, Plastic Plate, Plasterboard

14002015

2-1/2

64

48

BIM M42+D6A

For Soft Metal Sheet, Wood, Drywall, Aluminum, Plastic Plate, Plasterboard

14002016

4-1/8

105

48

For Soft Metal Sheet, Wood, Drywall, Aluminum, Plastic Plate, Plasterboard

14002017

5

127

48

BIM M42+D6A

For Soft Metal Sheet, Wood, Drywall, Aluminum, Plastic Plate, Plasterboard

14002018

6

152

48

For Soft Metal Sheet, Wood, Drywall, Aluminum, Plastic Plate, Plasterboard

14207001

1/4"shank

(9/16"-1-3/16")

HCS 45#

Small arbor for Hole Saw

14207002

HCS 45#

Big arbor for hole saw

14208001

Hole saw adaptor

(32-152mm)

HCS 45#

Adaptor for hole saw

14209001

1/4"*3-1/4"

6.35*83mm

W4

Short pilot drill for arbor

14209002

1/4"*4"

6.35*100mm

W4

Long pilot drill for arbor